Customer Service
There's a reason that River City Games is considered the best game store in Edmonton and Sherwood Park and it's not just because of the variety and quality of our game tables and board games. One of the main reasons why customers pick us time and time again is because of our exceptional game store customer service.
Customer Service That Goes the Extra Mile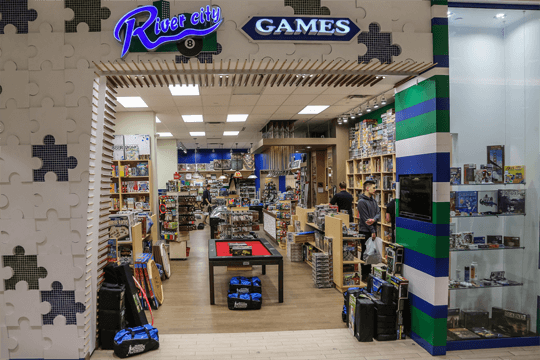 Our dedication to providing the best experience possible to our customers has given us the reputation of being the most friendly and helpful game store in Edmonton for over the past 30 years. We understand and appreciate that our success is due to our customers, which is why we strive to meet the needs of every single customer that walks through our doors. Our succes in Edmonton has given us the opportunity to open a new location in Sherwood Park. Visit our new Sherwood Park location today, for the same quality customer service.
Our staff are avid gaming enthusiasts who have a wealth of experience and knowledge when it comes to board games and game tables. Our staff has also tried out many of the games that we carry with their families, which means that they can answer specific questions about the gameplay or function of certain table games or board games that we have.Even if you don't know what you're looking for, we can help you. That's because our staff will take the time to speak with you and determine what your game tastes and styles are. That way, we can recommend board games or game tables that you'll be sure to enjoy.
If you know exactly what you're looking for, then we will check all four stores to see if we have it in stock. Since our selection is so large, we typically have what our customers are looking for. We constantly update our stock so we can keep up with the demands of our customers. However, if we don't have what you want, we'll go the extra mile to track it down and order it for you. We pride ourselves in the quality of our game store customer service. If you have any questions at all, contact us today!